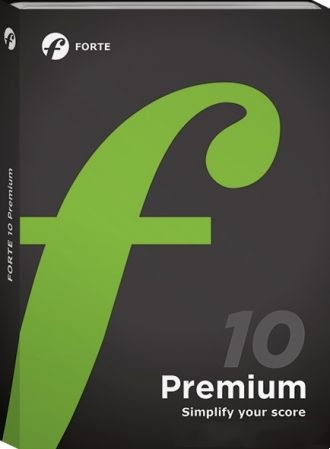 Forte Notation FORTE是一款专业的乐谱制作软件。Forte Notation FORTE对于专业音乐家来说非常有用,为作曲家、编曲者提供制作乐谱的所有一切,让你编写的高质量的乐谱的同时提高高质量的功能与操作,可视化的界面可以让你实时查看声音,而不是花更多的时间去研究技术上的技术细节。
---
For the professional musician… everything you NEED. For the amateur musician… everything you WANT. This full-version is the showcase edition in the FORTE 10 line of products, and provides high quality function and operation. The sky's the limit and the possibilities are endless with FORTE 10 PREMIUM!
---
FORTE 10 Premium in more detail:
Accessible, affordable, and all-inclusive — that's FORTE 10 Premium, the triple-A music software notation product available on the market today.
When you need to write out full orchestration, you want to do it quickly and easily. You don't want to waste your time tumbling through tutorial after tutorial; you want an intuitive, navigable interface that lets you spend more time seeing the sounds take shape and less time toying with the technicalities of technology.
FORTE 10 Premium gives professional musicians, composers, and arrangers everything you need to craft your scores, and it gives aspiring songwriters everything you want to get to that next level.
Here's how:
– Don't ever manually input a rest again — FORTE 10 Premium does it for you automatically
– Enjoy the art of writing music again — our intuitive interface was designed by actual musicians to meet the needs of other actual musicians
– Change the page designs and layouts of your score with just one click to produce professional, printed scores
– Need to transpose? Change by key, interval, or instrument with the click of a button
– Listen to how your musical ideas will translate in real audio with our Playback feature that showcases a VST orchestra library with studio-quality sound
– Create an entire score with a full-featured score notation engine
– Forte PREMIUM provides the most comprehensive product to meet your needs for just half the average price of other products on the market
– Spend more time creating, expressing, conducting, and teaching music and less time inputting and navigating with Forte 10 Premium.
Other features include:
• built-in scan module
• Step-time and real-time entry from MIDI device or keyboard
• 32 staves/tracks max
• 4 voices pro stave/ track max.
• 2 voices
• 16 lyric verses pro stave/ track max
• Compound meter
• Pickup measure
• Part extraction
• FORTE Player
• Save as MP3 or as WAVE
• Swing feeling adjustable
• Import and export of MusicXML
• VST-interface/VST-effects
• Layout editable
• Individual assignable drum notation
• Complete tablature
• 25 ornament signs
• 12 different noteheads
• guitar fretboard
• advanced chord functions
• punch in/out record
• loop record
• real-time entry and step-mode entry from MIDI keyboard
• Import Finale MUSICXML and Capella CAPX files
• Transposition by instrument and chord identification
• Video plug-in
• OLE linking
• Digital Rights Management
Whats New:
official site does not provide any info about changes in this version
Home page:https://www.fortenotation.com/